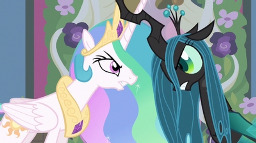 Things ended well in "A Canterlot Wedding", but the characters didn't always act as rationally as they might have! How might Queen Chrysalis's schemes have gone differently if she or Twilight had made other choices? This story is a three-part exploration of what might have happened in the season finale if...
* ...instead of making a scene at rehearsal, Twilight had gone back to Spike for ideas.
* ...when Luna said "Stay indoors, Twilight Sparkle," Twilight had actually listened!
* ...Queen Chrysalis had decided to maintain her cover for Twilight.
Curious? Read on.
Chapters (3)