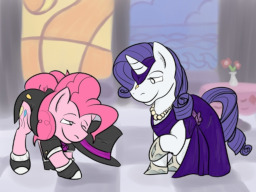 Source
Rarity has accomplished everything she's dreamt of accomplishing, and she couldn't be happier. At least, that's what she thinks, until an old friend comes unexpectedly bouncing back into her life. A RariPie story.
Warnings for: Dancin' and drinkin'.
Cover art was drawn by the multi-talented and ever-fabulous Baby Seal Burritos.
Chapters (10)