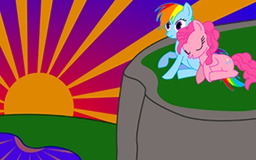 Pinkie Pie's crush on Rainbow Dash is possibly the worst-kept secret in all Equestria. Rainbow doesn't really pay it much attention, though, until Fluttershy asks her to make an important promise. It sounds easy enough to keep ... but a promise, like love, is often harder and more complicated than it first appears.
Warnings for: Adult pony alcohol consumption, romance, and possibly implied consensual adult sexual situations. Involving ponies. As one does.
New cover image added 12/19. Picture is courtesy of my Beloved Spouse.
Chapters (7)