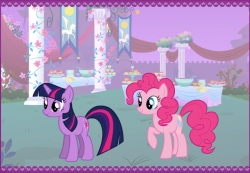 At this year's Grand Galloping Gala, Twilight Sparkle finds out just what a terrible dancer she truly is. Fortunately, there to comfort her is the one pony who is possibly an even worse dancer than Twilight.
The story has comedic elements but probably isn't a romantic comedy proper, by the way. Just want to avoid false advertising.
Cover image created using Hasbro's Valentine's Day card maker.
Chapters (1)