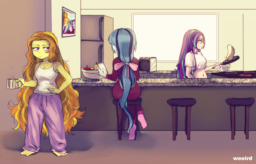 Source
This story is a sequel to A Dazzling Sleepover
---
The Human World is seen as the dumping grounds for Equestrian threats that are too much to handle. The biggest, most notable example of which was the Sirens who are now regular human girls trying to get by.
Thankfully, it wasn't that difficult.
After becoming more friendly with the other humans of this world, the Sirens are starting to comprehend strange new human traditions and values such as Thanksgiving and Christmas. However, as Equestria's magic starts to corrupt parts of the city, they have to weigh dealing with their own lives alongside defending against these threats.
Including anything else that just so happens to get left over from Equestrian conflict...
Landed on the Featured Tab on 3/7/2022, 3/17/2022, and 11/2/2022! Thanks everyone!
Chapters (231)