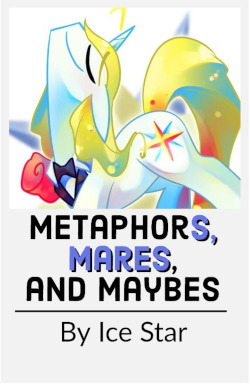 Source
Cadance and Blueblood try to stave off boredom on a snowy day. Or, at least they try to. Every time the matter of going outside comes up, Blueblood sure finds ways to come up with more excuses.
Some of them are far, far better reasons to stay inside than others.
---
This is an entry into Secret Moon's Self Isolation themed writing contest where it ended up getting an Honorable Mention for unique tone and characterization. You can read the spoiler-filled results here. The cover art has been edited by me, though there is the matter of that particularly stubborn 'S' (and the comma, but just ignore that I fiddled around with the art more than I would like to admit already). Contribute to the TVTropes page!
Chapters (1)