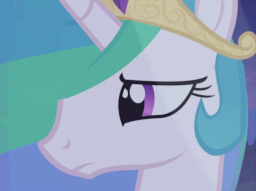 Source
She is the One who Mourns, She Who Raises the Sun and Moon, the Reclusive Princess.
Years have passed since the appearance of the Mare in the Moon, years during which Celestia has left the day-to-day running of the still-young kingdom of Equestria in the hooves of Platinum's grandson Prince Pyrite. Each day she raises and lowers the sun and moon, makes brief appearances at diplomatic meetings and special events, and then returns to her chambers, too lost in her melancholy to even count the years as they pass.
But what will she do when she discovers that her trusted prime minister has not been the faithful servant of the people she expected? Will she lose herself to her grief... or to the same madness that took her sister from her?
Written for Fan of Most Everything's Imposing Sovereigns II contest.
Part of the Remember Fort Libris print anthology, thanks to our Kickstarter supporters!
Chapters (1)