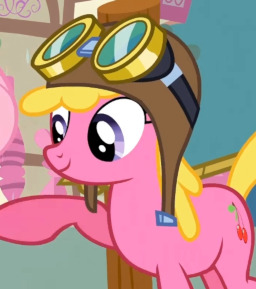 Cherry Berry loves cherries- every pony knows it. Cherry Berry does all sorts of odd jobs around Ponyville- every pony knows that, too.
What not every pony knows is that Cherry Berry's passion is flying- quite unusual for an earth pony. She flies a balloon and a helicopter... and now she's working on something even better, with the help of other ponies and a lot of bits.
Inspired by the poem "High Flight" by John G. Magee, Jr.
TVTropes page here! Thanks to GymQuirk for making it!
Chapters (1)