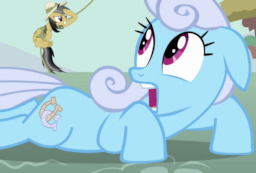 Source
It all started so simply. An offhoof comment from Strawberry Sunrise, a moment of righteous indignation, an effort to protect her livelihood...
Then Shoeshine ran into an unexpected extra mare in Princess Twilight's castle, and everything went off the rails.
Winner of the Season 9 Bingo Contest.
Cover note: Daring's not tiny; she's just far away.
Chapters (1)