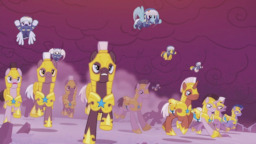 Source
The invasion is going well- not perfectly, as humanity isn't willing to go into slavery without a fight- but the odds remain firmly in the invaders' favor.
After all, to any star-spanning race, humans are just natives. No space fleets, no lasers, no antigravity, nothing. They might as well fight with bows and arrows.
And then the aliens find out that humanity does have one ally- the ponies.
The silly, fluffy, obsessed-with-friendship, and above all pacifist ponies.
The aliens are laughing.
The aliens haven't faced the ponies in combat yet.
A random snippet unrelated to anything else, written to get it out of my head so I could move on to other stuff.
Chapters (1)