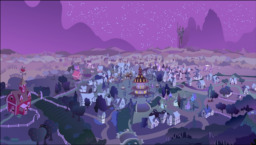 This story is a sequel to Triptych
---
He can't sleep. It was hard enough just getting Twilight back to bed and now that she's resting, all he can do is toss, turn, and completely fail to find a better placement for the basket. So as long as he's up anyway and trying to avoid disturbing his sister, there are worse things to do than take a quiet stroll around his sleeping town. Seeing what the world is like when he's the only one moving through it.
But there is one who knows that quiet world better than anypony, who isn't willing to let him travel without company.
And when two who share a secret meet under Moon, time becomes just one more thing to move through.
(Part of the Triptych Continuum, which has its own TVTropes page and FIMFiction group. New members and trope edits welcome.)
Now with author Patreon and Ko-Fi pages.
Cover art by Foxy Noxy, used under open permission.
Chapters (1)