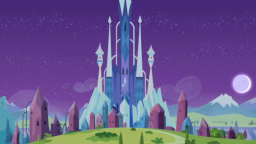 Twilight Sparkle is returning to the Crystal Empire for the one-year anniversary of Sombra's defeat. The whole kingdom is preparing to celebrate.
But four crystal ponies are preparing a different celebration. The pieces are moving, and their plot is almost complete – Lord Sombra's last, most faithful servants will have their revenge. Twilight Sparkle and all her filthy kin will die.
Now, in the final hours of their plan, something has gone terribly wrong. One of the four is a traitor. Everything is in jeopardy. And once again, the fate of an empire will be decided at the Gate of Heavenly Peace.
Chapters (1)