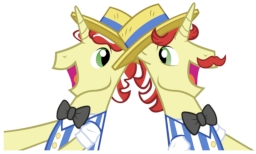 Flim and Flam aren't the kind of ponies one should trust with powerful magical artifacts. Reformed villains like Starlight Glimmer probably aren't, either. But there's no harm in the Memory Machine.
You can't change the past, but maybe you can drown it out.
---
An entry in GaPJaxie's Speedwriting Contest. Perfect for curing Writer's Block, stretching your writing muscles, or just trying something new!
Chapters (1)