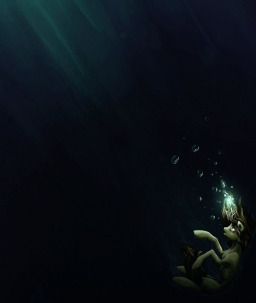 Source
The colony of Myinnkyun had enough problems without Peridot vanishing — trade ships were disappearing, and the island's native minotaurs had launched an attack on the city walls.
But now there's talk that she was murdered, and the city is about to tear itself apart before its enemies have the chance.
One part Spoon River Anthology and one part Rashomon, this story invites you to piece together the story of Myinnkyun's last days — and Peridot's final night — from the dreams of its inhabitants. "Dreams cannot lie," the Nightmares say, but everybody has a different understanding of the truth ...
Now with an official epilogue, thanks to the contest!
* Audiobook Version by Dubs Rewatcher *
---
Featured on Equestria Daily! Winner of the "Most Controversial" award in the August 2015 "Distant Shores" Writeoff!
Highly Recommended by Present Perfect: "Once again, horizon attempts something ambitious and in doing so effortlessly shows us how to write a story."
Praised by Cold in Gardez: "Dreams is the best story I've read in a long time. It deserved to win the last Writeoff, and if it had been a prose story instead of a poem, it probably would have ... but it wouldn't have been the work of art that it is."
Recommended by Titanium Dragon: "Really, you don't need to be a connoisseur of poetry to appreciate this – the form of the poetry didn't matter so much as the mystique it lent the piece."
Praised by Skywriter: "This story is destroying me right now. I mean, I'm just sitting here at my desk crying because of it. I don't know what else to do."
Rated Why Haven't You Read These Yet? by PaulAsaran: "Poetry isn't my medium … [yet that] does nothing to dissuade my satisfaction with an ambitious concept and a fascinating delivery."
Reviewed by Chris: "The more you put into it, the more you're going to get out ... if you're looking for something opaque, surprising, and even poignant—and especially if you enjoy piecing together stories for yourself—consider this highly recommended."
(Also, first place in my own list of my top stories! "Everything that people appreciate about my writing is at a full-throated howl here.")
Chapters (17)