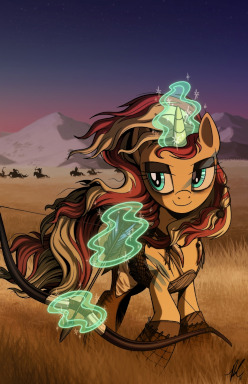 Source
When the Princess refused Sunset Shimmer the reward which was her right as a pony of talent and excellence, Sunset was determined. She would prove her mentor wrong, she would prove her worth, prove her worth as a pony and as a princess in her own right. The Mirror offered promises. It promised Sunset many things.
The Mirror lied.
The land that laid beyond the Mirror was barbaric beyond all her worst expectations. Ape-like beings strode through this world, arrogant, violent, vicious beyond anything in Sunset's experience. Slavers, savages, brutes, carnivores.
They put her in chains like cattle, and told her she was livestock. Then the brutes tried to give her as a gift to those whom even brutes feared, to the eastern savages. To a people who said there were only two things in this world: those that ride, and those that are ridden.
And so if she has any hope of ever proving herself worthy of being a person again, Sunset Shimmer would have to show that she could be one who rides - that she is...
Dothraki.
Chapters (22)