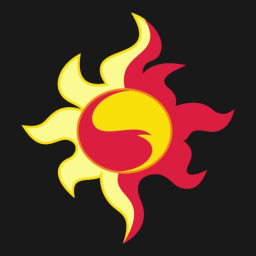 Source
This story follows Lessons for the Teacher, but it can also stand alone nicely.
---
(What if, ages ago, Sunset Shimmer had leaped through a different mirror? And instead of landing in a high school, had found herself in a mystical dimension filled with dangers undreamed-of?)
When newly-made Princess Twilight attends the first Princess Summit, she is concerned about many things: her new responsibilities, Celestia and Luna's relationship, and the prospect of immortality just to name a few. But when an old enemy from Celestia's past returns, Twilight finds herself in a battle for her life and her people, beneath the falling sky of an alien world. And just what does it mean to be a princess, anyway? Sunset Shimmer has reached her own conclusions…
(Chronology note: this story takes place betwixt seasons three and four, and is the point where my Elsequestria timeline branches most distinctly into an alternate reality [though most episodes remain compatible with it]. Therefore, while it was inspired by Equestria Girls, once the stage is set this tale makes no effort to maintain any cohesion with the original movie.)
(Content note: contains violence with serious consequences, some profanity. Initially posted under the working title Equestria Women.)
Part of the Elsequestria Continuity.
This timeline continues in When Legends Meet.]
Chapters (12)