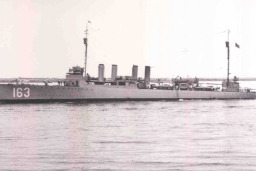 Twilight Sparkle was on a mission. Princess Celestia had tasked her with ensuring the arrival of the first shipment of liquefied Equestrian magic from a remote island in the Celestial Sea. That kind of power, Celestia claimed, would cause the destruction of Equestria if the wrong people got a hold of it.
Then a large rain squall bore down on her ship. In moments, the ENS Friendship was dismasted and a wallowing, helpless wreck at the mercy of the wind and waves. The chaos knocked Twilight unconscious, and when she woke up, she was the only one aboard.
Seven miles away, the exhausted crews of USS Walker (DD-163) and USS Mahan (DD-102) spot a foundering ship of the sailing age. The highest-ranking officer between the ships, Lieutenant Commander Matthew Patrick Reddy, captain of Walker, decides to check it out and recovers its lone survivor: Twilight, who turns from pony to human as soon as she leaves the magic-soaked Friendship. For the next several months, the Americans and Twilight attempt to survive this strange new world as they make new friends--and enemies.
----------------------------------
Crossover with the Destroyermen series of novels by Taylor Anderson. Any criticism is welcome.
Sex tag for strained references throughout the story, as most of Walker's crew is rambunctiously male.
Should update every other Sunday (unless it's a diplomatic chapter or I have homework). The longer delay than I prefer means that I can make longer and better chapters for your reading pleasure. Gotta love scheduling!
Seawolf made a great side story: MLDM: Souls of a Different Sort
And finally, this is (hopefully) the first story in the My Little Destroyermen universe.
Chapters (47)