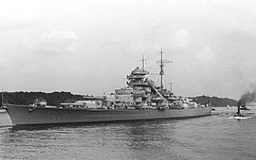 The date is May 1941 on Earth, better known in Equestria as the year 1015. Nazi Germany declared war on Equestria after cracking the interdimensional barrier, sending the battleship Bismarck to enforce their goals.
In response to Germany's February declaration of war, Celestia spends billions to acquire a surface fleet at least capable of attacking her enemy. But the amalgamated fleet of dilapidated ships' first test will be harder than anything Equestria has ever dealt with in the past.
Will Princess Luna, commanding her sister's motley collection of S-boats, decades-old destroyers, and nearly-scrapped cruiser hulks be able to take on the most powerful battleship to sail the Atlantic?
-----------------------
Written in memory of the Bismarck's sinking on May 27, 1941, and the loss of nearly her entire crew of over 2,200 officers and enlisted. Though their nation committed horrifying crimes against humanity, the men aboard Bismarck and Prinz Eugen, her sole consort who was detached to refuel the day before the sinking, led honorable wartime naval careers. Their destroyer screen was detached long before they steamed for the Atlantic, but I kept it here because they were part of Operation Rheinübung, which was the German attempted breakout into the Atlantic by steaming north into the Arctic and coming back down on the other side of Britain.
Published on the day of Bismarck's sinking.
During parts that show the Bismarck's perspective, several German words will be used. Since German and English are similar, it shouldn't be hard to determine what they're saying. In any event, all German words used will be in a glossary in the author's note. Each is marked in the story with an asterisk.
Chapters (1)