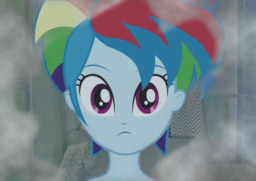 This story is a sequel to Twilight In Plain Sight
---
Blitz was once an athletic teen with supportive parents. Then things went really wrong.
Then she was alone and on the road, but she was a tough girl, and she could take it.
Then she met a boy. Not a man, that she learned far too late... but a good boy.
And now the good boy was gone, and it's four AM and the morning sickness has her up and staring in the mirror, wondering where that brilliant rainbow-haired teenager went when she wasn't looking.
Written for the Quills and Sofas Speedwriting contest 'Colourful Characters #2: Rainbow Dash'.
Chapters (1)