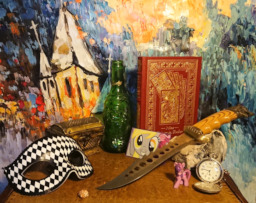 The war had been easier than the peace. And somehow the painter couldn't figure out how to go back to painting his buildings and his landscapes. But maybe he just needed a different subject to wrestle his muse into submission.
Such as a proud princess of the blood. Pony blood.
And if the painter fell a little in love with his subject?
Well, he wouldn't have been the first, and he wouldn't be the last.
(The trigger warning I should have included when this was published: yes, it's about Hitler.)
---
Take a look into the Kaleidoscope.
Chapters (1)