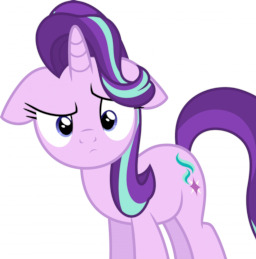 Starlight wasn't able to use her magic to help save her friends. It was a miracle, really, that she was even able to save Equestria with a shattered horn and a ragtag team of anti-heroes. The odds had been stacked against them.
Starlight struggled with not being able to use magic at all after an accident, so when she extended a hoof to Chrysalis in the hopes of reformation and it was rejected, her spirit was broken too. In a self-righteous show of pride, Starlight embarks on a journey of self healing and discovery that she hopes will help heal her body and mend her spirit.
Unfortunately, fourth-dimensional magic is probably going to break Starlight's mind more than it's going to heal it.
---
Doctor Strange: Pony Style! - Comics Edition! The Adventures Of Starlight Glimmer, Sorcerer Supreme!
Strange things, sorcery, and marvelous magic abounds! Follow Starlight as she ventures to be Sorcerer Supreme!
Chapters (21)