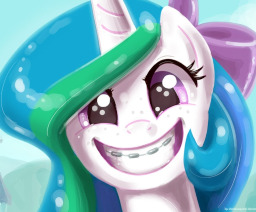 Nineteen-year-old Princess Celestia, fresh from her and Luna's victory over Discord, can't stop worrying about death. She tries to distract herself by banging every handsome stallion she can find, but her suitors are never around when she needs them, and her resentful little sister is up to something. What's a teenage princess to do?
Sex tag for mature themes, immature jokes, and (barely) off-stage frolics. Contains no clop.
Written for the Imposing Sovereigns contest.
Chapters (6)