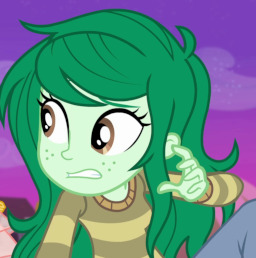 Sunset asked Wallflower on a date, and Wallflower is in a panic. What could the coolest girl at Canterlot High want with her? What do they have in common?
But it may not even matter, because Sunset is late and Wallflower suspects a trap.
Sweet and sour slice of life romance. T-rated for occasional profanity, jokes about spanking and mind control fetish, and mention of some films you definitely don't want to Google. There isn't an archive warning for depression and negative self-talk, but there's lots of that. No self harm tho.
Wallflower's dress is based on this. Thanks to My Little Pastafarian for letting me use the design and for editing my description of it. Check out #ponymakeover on DA for more wonderful pony dress designs.
And thanks as always to Scoots for letting me constantly bug them with questions about how to word correctly.
Entry in Scampy's SunFlower Shipping Contest.
Chapters (1)