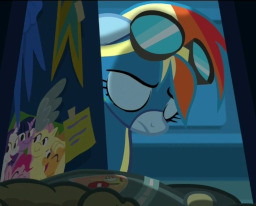 During the night of Rainbow Dash's humiliating performance with the Wonderbolts, Twilight and her friends go and check on her to see if she was alright, only to find out that Rainbow Dash had immediately resigned from her position and flew away home before anypony could stop her.
Determined to convince the crestfallen Pegasus to rejoin the Wonderbolts, Twilight and her friends must do everything in their power to change Rainbow Dash's mind. Can Rainbow Dash forgive the Wonderbolts and try again to live on with her dream, or is the damage to her pride too great for her to be convinced?
AUTHOR'S NOTE: This fic contains spoilers for Newbie Dash. If you have not seen the episode before, then you have the option of watching it before you read this fic. This is a fic about what I think should've happened between Rainbow Dash and the Wonderbolts.
Enjoy,
~Autismo555
Chapters (4)