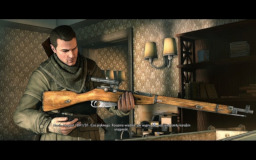 Source
The citizens of Equestria are no strangers to the strange and unusual, especially when it comes to the Everfree Forest. So when the most dangerous creatures start mysteriously dying no one thinks it's unusual. In fact some believe there's someone or something protecting them. The ones who do call it 'the guardian' and speculate as to what it is. But all it is, is just a human who watches over Ponyville's inhabitants who wander in to the forest, and keeps hidden to protect himself. However everything changes when he meets an injured little filly named Applebloom.
Proofread by Regreme
Note: This is NOT a Sniper Elite crossover.
An Anthro HiE story, remember it's your choice to read this. Don't like it? It's your fault. But constructive criticism is welcome.
Chapters (5)