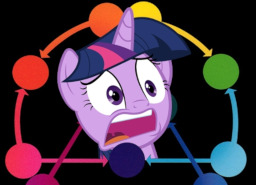 Source
A compendium of sketches of far corners of the multiverse. Ideas that were amusing enough to write down, but not quite meaty enough to build a full story on.
Marked "Complete" because each chapter is a standalone story, but I will be adding more stories as inspiration strikes. In spite of the "Teen" rating, most stories should have "Everyone" content; stories with actual "Teen" content will be marked with a [T].
Yak Attak: In which Ponyville is already home to a couple of immigrants from Yakyakistan. With them "helping" the mane six, the diplomatic visit with Prince Rutherford goes in a rather different direction.
That's my name ...: In which a cross-eyed pegasus breaks the census.
Dewey led a very interesting life, you see: A feghoot.
Veto: Two weeks after the attempted Changeling invasion, something surprising happens at the Equestrian Senate.
From Canterlot Boutique with Love: Another feghoot.
The Cutie Relapse: Starlight Glimmer and her teacher have an unpleasant but necessary meeting.
... don't wear it out.: Pinkie Pie takes a cliché very, very literally.
Change(ling)s and Forms: After Spike befriends Thorax, Twilight discovers that changelings are even better at blending in than anypony suspected.
Between a Spike and a Hard Place: AKA how "Princess Spike" should have ended.
When all you have is a spell book ...: Stupidlight Glimbutt gets a lot of mileage out of her new favorite spell. [Teen]
The Longest Line: Twilight Sparkle (not our Twilight, but a Twilight none the less) passes through water and fire to see a friend again. [Teen]
I Am the Night ... Glider: Night Glider never forgave Starlight Glimmer, and now she's back to get her revenge. (Available in two wildly different versions.)
Domains: Regarding Luna's Moon, Celestia's Sun, and the difficulties of being the Only Sane Alicorn in the kingdom.
Chapters (14)