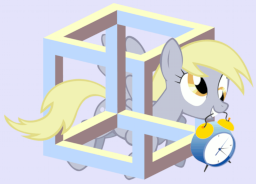 Source
Wake up. Go to work. Save Ponyville from unimaginable horrors beyond time and space. Have lunch with your PFF.
Ditzy Doo lives in a different world than her fellow ponies. She sees things nopony else can see—like higher-dimensional spatial anomalies, fae creatures, and eldritch abominations. And she uses what she sees to solve problems that nopony else even knows about.
But this time, Ditzy may have bitten off more than she can chew. Something very unfriendly is trying to enter Equestria through Ponyville's Town Hall. An earth pony with an hourglass cutie mark has taken an unhelpful interest in Ditzy. The Princess's personal student has grown suspicious. And, most irritating of all, her alarm clock radio is acting strangely.
Ditzy must race against the clock to save Ponyville—a clock that keeps playing the same song over, and over, and over ...
———
Traducción al español por SPANIARD KIWI aquí.
———
Many thanks to everyone who preread and edited my WORDS WORDS WORDS:
Japanese Teeth
Sessalisk
Sereg
Kuroi Tsubasa Tenshi
CDRW
Clever Pun
Connelly
Justanotherbrony
Cover art assembled by yours truly, using a Derpy vector by Sierraex.
———
Chapters (11)