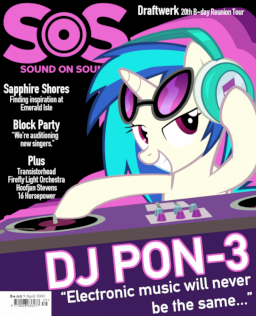 Source
Vinyl Scratch, the mare behind DJ PON-3's purple shades, is boldly exploring new frontiers of electronic dance music. Meanwhile, Spilt Ink, music critic for Sound on Sound magazine, is just as boldly exploring how far he can stick his head up his own rectum.
Trace the trajectory of one mare's career—and one stallion's sanity—through this peek into the music world's sordid underbelly: the album reviews.
---
"If you want to see a pure distillation of the most conceited reviewership possible, look no further!" —Chris
"Overimportant pretentiousness ..." —Present Perfect
"The complete verbal destruction evoked from this critic is so outstandingly cruel, it feels like I'm viewing a different kind of art." —Tired Old Man
---
This story can be enjoyed on its own, or as a companion piece to Octaves, by JapaneseTeeth. Basically, JT asked me to help with the music reviews in one chapter of his story. I enjoyed writing in the voice of a stuck-up indie music critic so much, I couldn't stop myself from writing more, and then this story happened.
Big thanks to my pre-readers/editors:
JapaneseTeeth
KuroiTsubasaTenshi
War877
EQD Pre-reader 63.546
Cover art kludged together by yours truly. Vinyl Scratch vector by hfbn2. Sound on Sound logo is a parody of the Consequence of Sound logo.
Chapters (6)