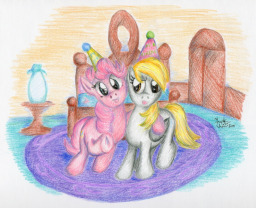 Source
This story is a sequel to Beauty Will Tear Us Apart
---
There is another secret agent stationed in Ponyville.
Some elder siblings are not as old as they look.
Ponyville's premiere party planner is pondering her purpose.
The world is not quite what it seems. A pony, in the wrong place at the wrong time, just might stumble behind the stage and see the the nuts and bolts that hold their reality together. Some ponies brush up against the dividing curtain briefly and never understand what it is they saw. Some ponies get a good, long look behind it, and their lives are never the same. And some ponies live their whole lives with a hoof on each side.
These are their stories.
---
The comment section may contain unmarked spoilers.
Cover art by the multi-talented KuroiTsubasaTenshi.
Big thanks to my pre-readers (in roughly chronological order):
cleverpun
Midnight Rambler
Justanotherbrony
KuroiTsubasaTenshi
war877
JapaneseTeeth
Look at this guy who said something about this, one time.
And also this guy.
Chapters (3)