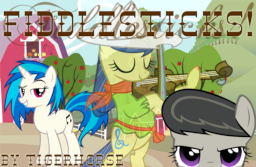 Source
Octavia has a musical history and a side to herself she'd rather not have to explain outside of Ponyville. Inside Ponyville... well, everything was fine until she spotted Vinyl Scratch. What was she doing here?
Don't panic, Octavia! Don't freak out, don't lose your mind, don't....
Oh well.
(And check out Goombasa's excellent dramatic reading!)
Cover by Page Turner.
Chapters (1)