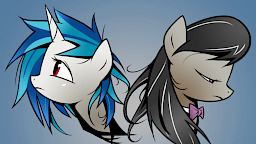 Source
"I'm going to be famous!", "I'm going to be the next big thing!", "I'm going to be a superstar!" Octavia couldn't even count how many times she'd heard her roommate claim that she was headed for fame and fortune.
But the worst part is, Vinyl might not be wrong. At least, not entirely.
---
This fic is inspired by the Dream Theater album Octavarium, which is awesome, and you should go listen to it. It is not, however, required to understand the story.
And for the record, this is not a Vinyltavia shipfic.
Chapters (13)