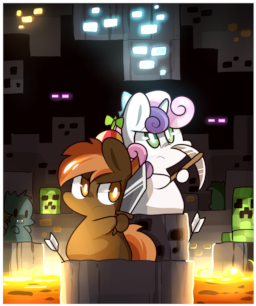 Button Mash and Sweetie Belle decide to play Minecraft.
So of course, Minecraft decides to start spouting out of the computer and turning Button's house into hundreds of blocks, hostile mobs are spawning in his home and roam free, he has no idea when his mom is getting home, Sweetie Belle has no idea what she's doing, and as if that wasn't enough...
Button has absolutely no idea how to reverse this.
Totally normal day, right?
Inspired by the popular video Don't Mine at Night as well as a 90's movie called Jumanji while also paying homage to an 1879 opera called "Pirates of Penzance" in the form of an (attempted) song parody.
(Ahhh, this got put in the featured box, twice, Huzzah! Thanks to all my readers!)
Chapters (10)