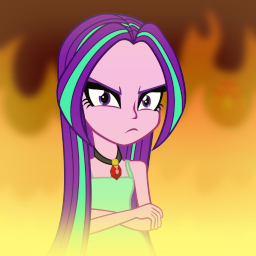 " I can see her, feel Aria as she goes by. By Starswirl's gnarly beard, she's gorgeous. She's a hot, gleaming brilliance flying through the inky blackness and setting a pilot light in my heart. Just like the fiery cloak that engulfs her burning body. "
---
Preread by DragonShadow.
Yes, this is a loose, affectionate parody of She's Dazzling. No, you don't have to have read that story to read this one, though it will enhance the experience.
Also, I mean no offense to the original work. This was just a weird little idea I had.
Chapters (1)