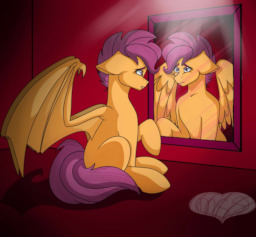 Shortly after becoming a teenager, Scootaloo undergoes a startling transformation. Her life spirals out of control as unanswered questions about her past resurface. Her journey to self discovery will create conflicts from those she thought was close, changes that scare her. With the odds stacking against her, she's afraid of what she'll find out about herself.
Thanks to this wonderful people for their help: Manaphy , DemonBrightSpirit, Blazing Light, Lord Of Dorkness, Prak and Word Worthy.
Made by the talented The Exotic Natasha.
Chapters (7)