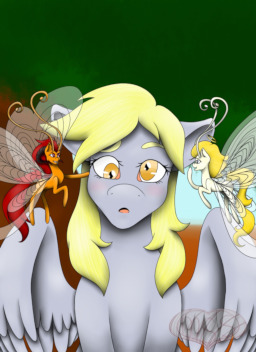 Source
Only crazy ponies hear voices inside their heads, telling them to do good or bad things. Derpy is not crazy.
Her voices come from a pair of little breezies she likes to call Red and White, who sit on her shoulders and offer advice about her life. Just because nopony else can see them, doesn't mean she's crazy.
That's perfectly sane. Right?
Wonderful art done by The Exotic Natasha, check her out!
Thanks to these wonderful people who had to deal with my constant changes:Striving Scholar, Savoured Thoughts, Georg and Sandcroft.
Chapters (2)