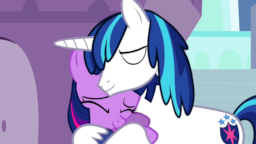 When young Twilight Sparkle is afraid of the thunder and lightning one fierce night, there's only one pony who can comfort her and show her that there's nothing to be scared of. Her Big Brother Best Friend Forever.
---
(It's raining like crazy here and that's just how I like it so I became inspired and voila!~ I've been meaning to write a story w/ Shining and Twilight anyway because their relationship is so adorable. Hope you all like.)
---
Here's a totally amazing fanfic reading.
Chapters (1)