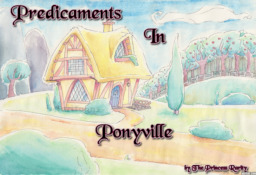 Source
This story is a sequel to Misadventures in Manehattan
---
Ponyville is a dusty little town that wasn't very well-known. Gradually, it's gotten more popular over the years, because some great ponies have left and risen to the top. Grace Manewitz and Coco Pommel are not those sort of ponies, yet.
And if they keep ditching work like this, they certainly won't be going anywhere...
---
Temporary cover art edited by moi.
Chapters (2)