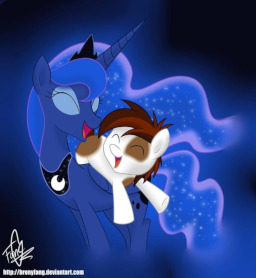 Side story of Chaos: the Age of Spike.
Since his first Nightmare Night, Pipsqueak and Luna have shared a beautiful friendship.
And the young pony has always dreamed about becoming Luna's knight in shining armor.
A dream that he decides to pursue at the age of eighteen, when he enlists in the Lunar Guard. The strongest soldiers of Equestria, under the command of their feared and admired leaders, the Black Swordsman and the Lightning Flash.
Chapters (14)