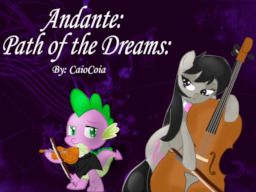 Through the simple act of betraying with somepony he knows and loves. Spike will be shown just how far his music can take him. From a simple dream as a little dragon, he gave up his dream and his talent to help the only pony who betrayed him after so many years of being on her side. Running away from Ponyville with his violin, Spike trips to Canterlot... Healing old wounds, finding new friends or something more, and possibly even rekindling the old fire of his dreams...
This time he will focus not on the others, but to follow his dreams...
Written for the Spike Shipping Contest.
Temporary Cover art, until I made one.
Chapters (2)