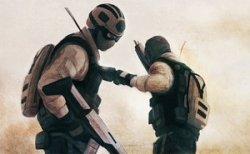 Sergeant Gary "Roach" Sanderson and Lieutenant Simon "Ghost" Riley of Task Force 141 are revived in Equestria after being K.I.A. on the Russian-Georgian border. A massive combined evil force threatens to destroy the nation, and now the two must defend the ponies. Is there more to their arrival though?
Crossover with Call of Duty: Modern Warfare. Takes place between episodes 12 and 13 of Season 3.
This story was granted to me by JWR832, since he was unable to continue it. So, as one of his editors, I will be taking over. I will be consulting with him often, and he will be helping me change it to his liking. For my own purposes, all cursing (other than a few British words) will be omitted. I'm sorry if you don't like this, but it's just the way I write. Thank you all for supporting him, and I hope I can do almost as good as he did. This fic was just too good to die.
Featured February 5th, 2014. Keep it up, guys!
Reached 400 likes 11/11/14! Thank you guys!!!
Chapters (9)