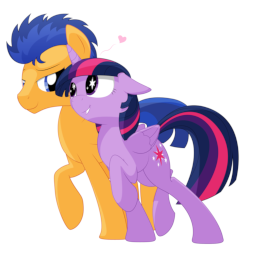 Source
This story is a sequel to A Guard and a Princess
---
Evil creatures raising from the underworld, a national sports event, an entire other dimension—what will cause the newly-married Twilight Sparkle and Flash Sentry to be apart next? Well, now that they are reunited after Princess Twilight received her new castle and role, hopefully nothing.
---
This story is the sequel to A Guard and a Princess. It is written in third-person, and occasionally includes the footnote style of The Celestia Code, a story that I would highly recommend if you like Twilight Sparkle. It also takes place after season 4 and Rainbow Rocks, with a little bit of a timeline mix up that you all will surely ignore because you are awesome people. It does contain minor Rainbow Rocks spoilers.
---
Artwork by: Emkay.
Edited/Pre-read by: SpitFlame and Gemstone the Unicorn.
---
First Story: A Guard and a Princess.
Second Story: A Prince and a Princess.
Chapters (3)