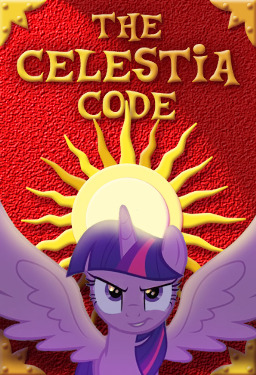 Princess Twilight Sparkle discovers a centuries-old mystery hidden in the Royal Archives. Her investigation leads through layer after layer of deception and misdirection, setting her hooves on a path that seems to be leading to a mysterious secret. Along the way, she learns that some friendships can be very, very strange.
Book 1 of the Alicorn Adventure series.
AUDIOBOOK by VisualPony
Featured at the Royal Canterlot Library
TV Tropes Page (Courtesy of Sandtalon)
Goodreads Page (Courtesy of Facedeer)
Equestria Daily Page
WARNING: Major spoilers in the comments. Takes place several months after the end of season four. (Not a Da Vinci Code crossover, BTW!)
Do you see a dark tag? No, you don't. Not dark. Well, okay, there are a couple of dark-ish bits, but that's all. Not enough to warrant a tag. Speaking of tags, there really ought to be "Badass Twilight" and "Friendshipping" ones.
Sequels and side-stories (and more) can be found here Offprint and AO3, and a hardbound two-volume set of all that can be ordered from The Ministry of Image.
My editor for the first edition of this story was Gogito, and I can't thank him enough for all the hard work he did. My editor for the revised version was PresentPerfect, and he did a terrific job of getting the story into excellent shape.
Chapters (24)