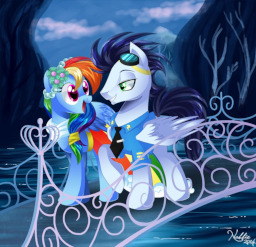 Source
Rainbow Dash finally gets her chance to compete in the Equestria Games, but she has to also face the stallion she loves with all her heart. Will she finally be able to win the gold medal she always desired? She has three different events to compete in; three chances to be on top of the world.
---
A not-too-complicated SoarinDash story taking place during the Equestria Games and featuring flashbacks to canon events with extra stuff added to them. This story, however, ignores the rule that each pony can only compete in one event, because I am comparing the Equestria Games to the Olympics. It is only just a fanfic, nothing special. This story is in two different timelines: what's happening at the Equestria Games, and what's in Rainbow's memory.
---
Artwork by: Nabbiekitty.
Edited/Pre-read by: Gemstone The Unicorn (final chapter only).
Chapters (6)