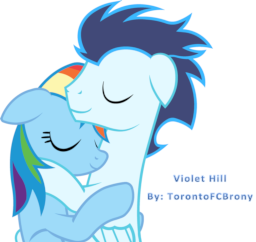 Source
Rainbow Dash graduates from the Wonderbolt Academy. After many weeks of training, she falls in love with Soarin, her instructor. However, when war breaks out and the Wonderbolts have to join the Equestrian Royal Army, Rainbow Dash and Soarin's love for each other and their loyalty for their kingdom are tested.
---
This story was inspired by the song Violet Hill by Coldplay, as well as the rest of the Viva La Vida album. It takes place after the Wonderbolt Academy episode, not including Alicorn Twilight Sparkle or anything after season 3. Rated teen for a few suggestive jokes and moments of intimacy, but nothing mature.
---
Artwork by: Bob the Lurker.
---
First Story: Violet Hill.
Second Story: Til Kingdom Come.
Chapters (25)