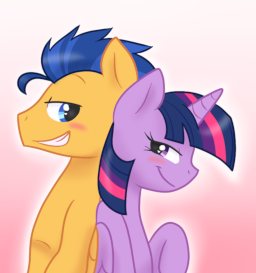 Source
Twilight Sparkle, a new ruler in Equestria, has only been a princess for a few weeks. She just returned from an adventure in a new world that she never knew of, but she still doesn't feel ready for life as a leader. On the other hoof, Flash Sentry is just a new member of the Canterlot Royal Guard. As a member of the guard, his job is to protect the three princesses in Canterlot, as well as tour with them wherever they go. This turns into a romantic relationship, and they live happily ever after.
Actually, no they don't. That only happens in fairy tales.
---
Rated Teen for suggestive scenes and innuendo jokes, but if you know me you know that my stories are always the PG rated version, where the acts aren't described after kissing or touching. This story takes place after Equestria Girls but before Season 4, not including any new developments in the series or comics after the movie.
---
Artwork by: cat4lyst.
Edited/Pre-read by: Gemstone The Unicorn (final chapter only).
External Links: Goodreads.
---
First Story: A Guard and a Princess.
Second Story: A Prince and a Princess.
Chapters (21)