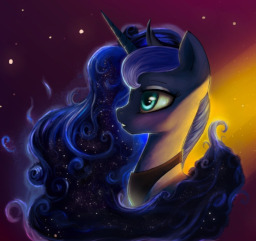 Princess Luna was always known as the solitary princess. She spent much time in her room, attached to none else other than her sister for their trade of the heavens. She was a very lonely princess, even if it appeared that she preferred the isolation.
Twilight Sparkle found an odd book in her shipment from Princess Celestia. Hoofbound and unlabeled, reading it opens a door she cannot, and will not, close with the youngest diarch.
She will not let one of her friends hurt alone, not on her watch.
Coverart is temporary until I can make my own.
(Featured 2/24-27/22, huzzah!)
Chapters (1)