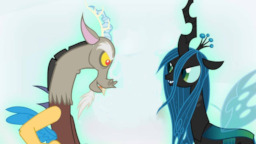 This story is a sequel to Chaos and Madness
---
After a month of insistence, Discord finally managed to convince Chrysalis to join him as his advisor to bring chaos to Equestria and laugh together at the expense of the ponies.
However, he still insists Chrysalis to better her life with little outings in Ponyville disguised as a unicorn mare named Organic Polymer.
It's only a matter of time until their partnership gets noticed.
Featured 5/8/2020 Yes!
Picture stolen from SFS_Animation
Chapters (1)