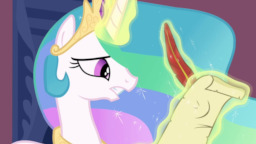 Source
Dear Princess Celestia,
First, allow me to offer my deepest apologies.  I have no doubt the news I'm writing to you about has, somehow, already reached you.
Still I know it is my responsibility duty to bring this matter to your attention myself.  Especially given that it involves a national hero.
On my authority as your personal student, I have placed the human known as Gary Stu under citizen's arrest.
Please believe that nopony is more shocked than I am about this.
Chapters (10)