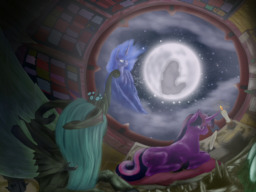 A changeling who finds responsibility thrust upon her after the failed Canterlot invasion.
A unicorn who finds herself part of first contact with a strange new creature.
A princess who finds hints of one she long since lost in another's mind.
With the arrival of a strange bipedal creature into Equestria, all three will find themselves intertwined with the fate of the girl. When language cannot be understood how will communication with the new arrival be achieved, and what secrets may the creature be bringing with her? What does the girl possess that may alter how the changeling in particular sees the world.
What could the girl possibly have that would allow one word – hope – to resonate so strongly, not only for herself but also the changeling.
This is a retelling of A Voice Among the Strangers from three viewpoints in particular. You don't have to read AVAtS to read this one, as I will be attempting to make each a full story on their own.
Also, this seems to share a Tv Tropes page with A Voice Among the Strangers!
(Thanks again to Tulip for the Cover image!)
Chapters (8)