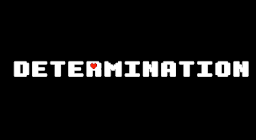 I have lost interest in this story for now, but I will return to it one day.
Undertale Crossover if you haven't guess yet.
Set before season 3
A long time ago in the ancient land of Equestria there where five known elements that guided the land. Honest, Kindness, Laughter, Loyalty, and Generosity. These where just the ones known.
A thousand years after the Nightmare Moon was banished to the moon she was released. She once again vowed to shroud the land in eternal night.........
She failed
She failed because six ponies banded together and the long lost element of magic was restored, also freeing the lost princess Luna. Peace was returned to the land once more. More threats arose in attempt to destroy Equestria but, each of them were defeated by the six friends.
Now after almost 2,000 years the last element has returned, the pacifist and the fallen child seemingly forever bound. This element has yet to meet her fellow bearers but she will soon because old threats are going to become much more dangerous
Chapters (11)